Did you know that the average company with a Google My Business profile gets about 59 actions on their Google listing from prospective customers every month?
That amounts to dozens of people calling their business, reading online reviews, or visiting their website that wouldn't happen without a Google listing set up. 
Simply put, if you're not taking advantage of this free service for your business, you're missing out on potential sales. 
Why wait any longer?
Keep reading for more information about Google My Business and why it's important to update your Google business listing on a regular basis. 
What Is Google My Business?
As a business owner, you know there are hundreds, if not thousands, of online tools available to help you run your business more efficiently. 
While many of these tools are paid, there's a list of Google tools that are free to you, like Google Ads and Google Analytics. 
One of these free tools that is often overlooked is Google My Business. 
So, what exactly is Google My Business? 
Think, for a moment about your own internet habits. Have you ever Googled the name of a local business so you can find their address or phone number?
If you have, you might have noticed that sometimes, on the search results page, there is a box on the righthand side that lists at least some of the following information:
Business name
Photos
Logo
Link to the website
Link to directions
Link to call
Google reviews and star rating
Address
Hours
Phone number
If this box of helpful information appears in search results, it's because that company has set up a Google My Business profile.
As a result, their information is easy to find and it encourages those searching to interact with their business rather than continue scrolling through other search results. 
So, if you do not have a Google My Business profile set up, you're missing out on these powerful interactions and potentially losing customers to your competitors. 
Reasons to Keep Your Google Listing Updated
Now, once you have your Google My Business profile set up, you might think you can set it and forget it, right? 
Not so fast. While some aspects of your business listing aren't likely to change, like your phone number, it's still important to update your listing regularly. 
For example, in early 2020, during the height of the COVID-19 health crisis, many restaurants closed their dining rooms and served food via take-out only.
To make sure their customers knew what to expect, they updated their Google listings accordingly with the latest information about their operations. Here are a few other reasons it's important to keep your listing updated. 
1. Accurate Search Results
Search engine optimization (SEO) is a digital marketing strategy that ensures your website shows up in relevant search results. A Google My Business profile is just one small part of your overall SEO strategy.
As we mentioned above, a Google listing helps your customers find you more easily. But, what good does that do if the information in your profile is out of date?
Keeping your Google listing accurate gives your company a sense of authority and reliability that customers will always appreciate. 
Even something as simple as updating your hours to reflect holiday closings can ensure your customers have the latest information about when and how to contact you.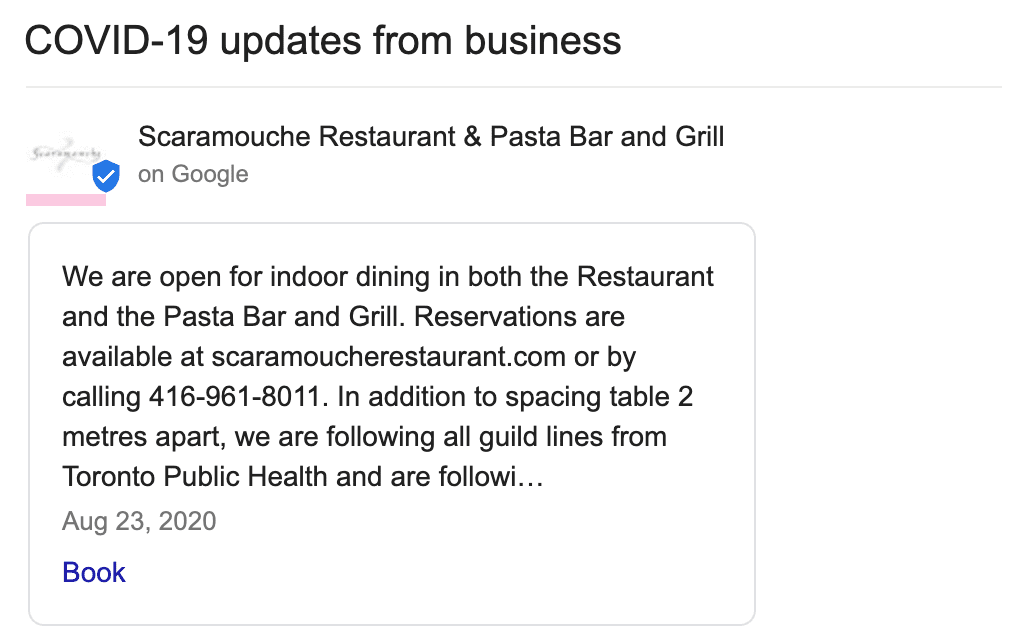 2. Easy User Experience
If a potential customer Googles your company name, half the work is already done for you. Instead of Googling something generic like, "pool store" they already know they want to come to your business. 
But, the longer it takes for them to find the information they need, the more likely it is they'll give up and do something easier instead. 
Let's use the pool store example above, let's say your company is ABC Pools and a prospective customer wants your phone number to call and ask if you have a filter in stock. 
If they Google "ABC Pools" and your Google listing is updated, they'll see your phone number right away. If your profile is not updated, they'll have to click to your website and search for your phone number there. 
While it's only the difference of a few seconds, in this day and age, sometimes that's all it takes to lose a customer online. 
3. Promotes Action
As mentioned in the example above, your Google My Business listing not only shows your phone number, but it also includes convenient call-to-action buttons. 
These buttons encourage your customers to call you or visit your website with one simple click. This is especially helpful for customers using a mobile device.
An updated Google listing encourages customers to take action right away, often leading to more conversions. 
4. Built-In Advertising
If you've ever run a pay-per-click advertising campaign, you know that online advertising is not always cheap. 
However, an updated Google listing is free and effectively works as built-in advertising for your service. To not take advantage of this free, helpful tool is only hurting your business. 
5. Highlights Reviews
One of the best ways to get more customers is to let your previous customers do the talking. Google reviews are listed in your profile, encouraging prospective customers to read through them. 
This is great because studies show that 90% of customers read through reviews before visiting a business. 
With an updated Google listing, you're doing half the work for them, by handing them your glowing reviews on a silver platter. 
6. Customers Expect It
Gone are the days when it was optional for a business to have an online presence. In this day and age, your customers expect you to keep up with the latest web trends. 
If you don't, it puts you at risk of seeming "behind the times" and not forward-thinking. When prospective customers do a search for your business, they expect to not only see a Google listing but for it to be up-to-date. 
Have Digital Marketing Woes? We've Got Your Back
Now that you know more about the importance of creating and updating your Google listing, it's time to take action. 
But, what if you don't have time to handle a digital marketing strategy on your own? We're here to help.
Reach out to our team about your marketing struggles and we'll formulate a plan on how we can help.