Together, there are more than 4.1 million posts, comments, photos, and status updates made on Facebook EVERY MINUTE! There's no denying that Facebook is a huge part of social media and an app that lots of people spend a good amount of time using. With that being said, it's a no-brainer that your business needs to utilize Facebook ads to gain customers. 
As you scroll through your own Facebook feed, which ads stand out to you the most, and why? Which ones are you more likely to click on? Do you know what makes an ad successful and what causes it to fail?
Knowing how to make a good ad on Facebook is crucial for your business because it gives you a platform with such a wide audience. When it comes time to create your own ads, be sure to create nothing but the best. Use our guide below to help you understand the most important aspects of a great Facebook ad!
Here's what you should know.
Consider Your Reasoning 
Before you can build or create something, you first need to know the "why." Why are you creating this ad? What's the main purpose behind it?
Are you creating an ad to increase sales, gain more followers, increase engagement, convert leads to sales, or something else? You need to know your specific reason for the ad in order for it to have all of the essential characteristics to be successful. 
When you create the ad, Facebook will ask you what your marketing objective is. The type of campaign that you run using your ads will depend on what your goals are for that ad, so know this before you start. 
Know Your Audience Insights 
The next step is to know who your audience is. If you don't know your audience, then you can't create ads that are targeted for them. Facebook allows you to look into your audience's insights. 
Using the settings located within your ad manager tool, click on the "People Connected to Your Page" button. You can now see the demographics for your audience, their location, their page likes, plus so much more. 
Take all of this information and use it to create ads that are valuable to them and interesting to them as well. 
Use Precise Advertisements
When you create an ad for your business, you need to ensure that the advertisement matches precisely with the landing page. The landing page is the place where your audience will land after they click on the ad. Having a landing page that matches the ad will increase your score for ad relevance, which will give you a better price for the service. 
It'll also help build your credibility with your audience. When they see an ad for something, they're assuming they'll be brought to that exact service or product after clicking the ad. If they're brought to something else, then chances are they'll click away and won't be as tempted to click on your ads again. 
Landing them on a page that they expect to see will build your trust with them and increase conversion rates. 
Write Valuable Content 
The content that you write on your ads should be valuable to your audience and should be simple and to the point. The more writing you have on your ad, the less likely your audience is to read all of it. Facebook is also more likely to show ads with less writing on them.
Your ad copy should have something that grabs the audience's attention, something that explains the value of the ad, and then a call to action. When writing the copy, be sure not to sound like you're trying to persuade, however. People tend to pull away from ads that seem like they're trying to persuade them into something.
Instead, make the copy more informational, explaining to the audience why the service or product is beneficial to them.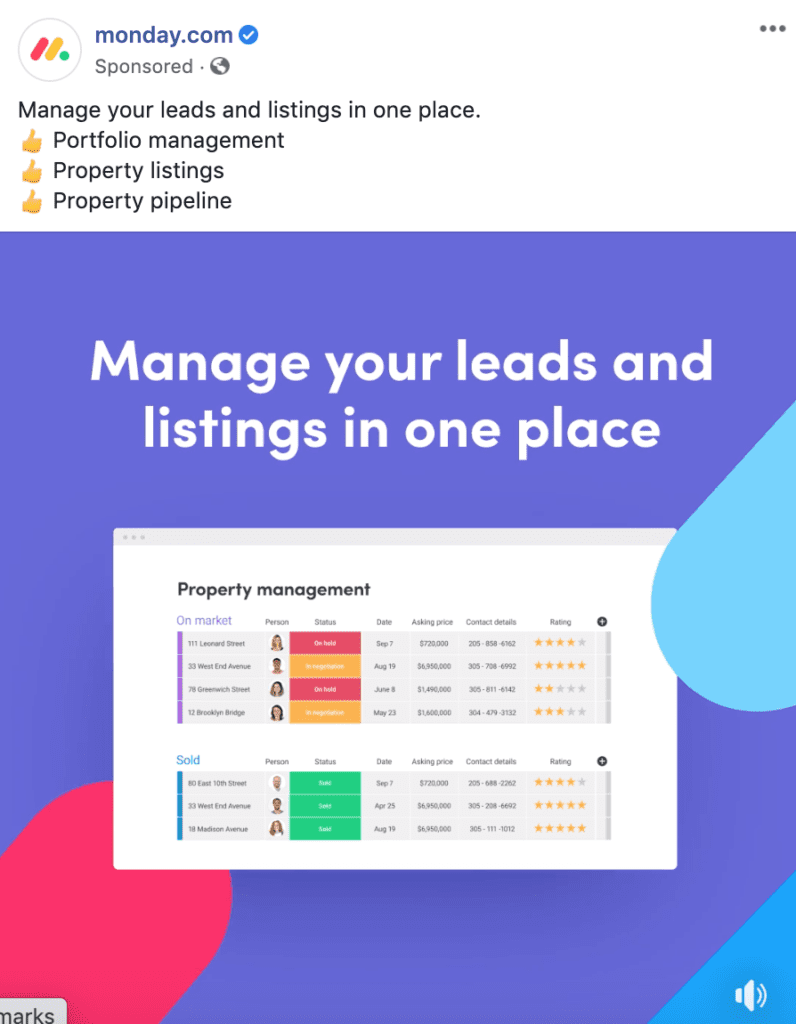 Select the Right Images or Videos
You have to stay concise with your copy, and that's why you need to make sure the images or videos you use are great quality, eye-grabbing, bright, and unique. This is another great time to stop and think about who your audience is. Use the information you have on your audience to choose images or videos for your ads that'll grab their attention.
If your audience consists mostly of young moms, then you might want to use an image containing children or babies with their moms. Be sure to have all faces clear for the audience to see, which helps to build connections. When they see other people like them using your services or products, they'll feel tempted to give it a try as well. 
Conduct a Few Test Runs
To get a better idea of what works well and what doesn't, you can conduct a few test runs or trials. To do so, create an add and then make different variations of this ad. The ads will be the same, but with one difference for each one. 
The difference might be the copy that's written, the image used, the headline, or something else. When around 100 people have seen the ad, you can start eliminating the ads that don't work as well. Do this until you narrow it down to the ad that's most effective. 
The end result is an ad that has the most effective image, copy, headline, buttons, and more!
Know How to Make a Good Ad and Remain Successful! 
If you want your advertisements to remain successful, then you need to create ads using the information listed above. Knowing how to make a good ad will keep your business successful for years to come. 
Are you interested in creating amazing ads for your Facebook business page? 
Click here to see a list of our services and see how we can help you today!