With the emergence of COVID-19 and the isolation period it's caused, businesses all over the world have been forced to close their doors and either temporarily shut down or move to the digital sphere. For many businesses, such as marketing companies, online publications and many retail stores and fast food chains, moving online is second nature. For some non-digital companies, however, taking your company digital might require some creativity.
If you're a business owner of a company who doesn't operate online, this isolation period may feel hopeless and threatening to the future of your business. Although it may mean a temporary drop-off in sales or customer acquisition, we're here to tell you that not all hope is lost! With a little creativity and some inspiration from fellow businesses, you can ensure you stay top of mind and engaged with your audience during these challenging times.
Here are some examples of how non-digital companies are successfully taking the net!
1. Online Ordering for Restaurants
Now that restaurants are closing their doors due to government mandates and social distancing regulations, businesses in the food industry are getting creative. With the COVID-19 outbreak, people are choosing to self-isolate to help stop the spread, which means they are avoiding leaving their homes altogether, other than to go on short walks and runs. Even if your restaurant has a drive-thru service, people are much more likely to choose an option with the least amount of contact possible, such as a delivery service.
One way restaurants are successfully digitizing themselves is by partnering with delivery service apps. Many restaurants across the country are partnering with companies such as Uber Eats, Door Dash or Skip the Dishes, and offering promotions to encourage orders. Offering free delivery between certain dates or 20% off first orders, are just two examples of some great ways to get ahead of the competition. Make sure to let customers know about these promotions through social media and email.
2. Live Stream Workouts for Fitness Centres
During this period, it can be easy for people to adopt an overly sedentary lifestyle and neglect their typical exercise routines like daily walks, hikes or working out at the gym. As a gym business owner, it is extremely important to encourage your customers to remain physically active despite their inability to visit your centre in person. By posting free instructional videos of exercises, workout routines and stretches, your audience will be able to stay active in their homes and will greatly appreciate the effort you've made to help improve their physical and mental wellbeing.
Some examples of businesses within the industry that have gone digital to accommodate the conditions of quarantine. Peloton, SoulCycle, Nike, Barry's Bootcamp and other fitness companies are offering free at-home workout classes that are streamed online each day.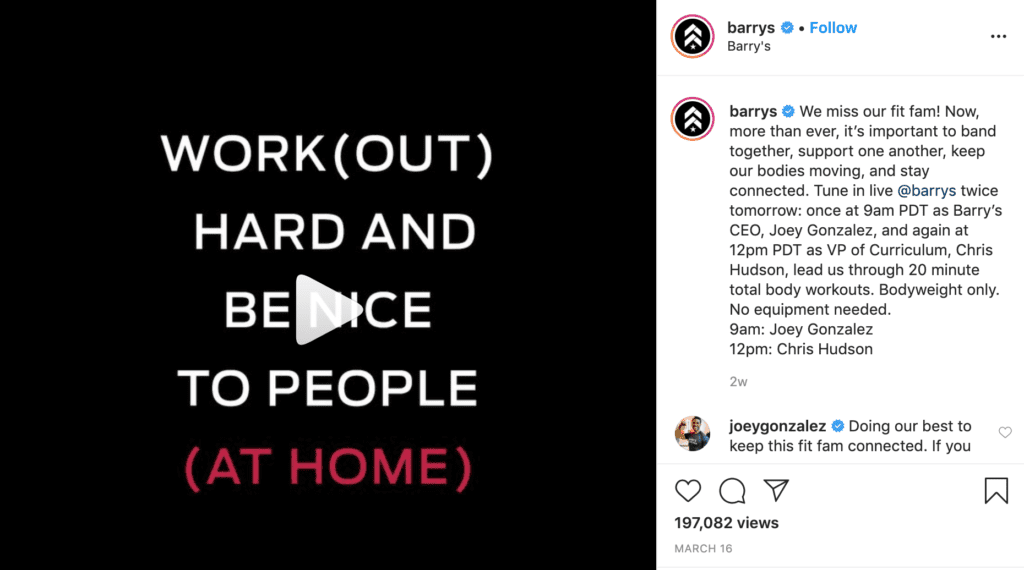 3. Online Therapy Sessions for Therapy Clinics
Living in isolation with minimal human contact and exercise can be extremely taxing to our physical, emotional and mental health. Now more than ever, people need resources to maintain their mental health and keep them physically active. If you are a business owner of any kind of therapy centre (physiotherapy, nutritional therapy, psychotherapy, etc.), your patients can greatly benefit from your services despite not being able to visit your clinic. Uploading online classes, offering virtual therapy sessions or even posting relevant tips, tricks and exercises are great ways to assist your patients and potential patients in this time of need. 
By using your website to upload relevant posts and taking advantage of HIPAA- compliant platforms like Zoom, Doxy and TheraNest, you can check in on your patients and provide them with the resources they need to stay healthy and maintain positive mental health while they practice social distancing.
4. Live Streams for Musicians, Comedians and Entertainers
Among many other event cancellations that have come from the Coronavirus outbreak includes a long list of concerts and shows from entertainers and musicians around the world. To simultaneously adapt to the quarantine regulations, avoid letting down their loyal fanbase and spread positivity during these challenging times, many entertainers have taken to the Internet with a "the show must go on" attitude. 
Musicians like Miley Cyrus, John Legend and Chris Martin have started to livestream concerts on social media from their homes or empty venues, while talk show hosts like Jimmy Fallon, Kelly Ripa and Ryan Seacrest keep their shows going with daily at-home online segments. 
As a member of the entertainment industry, whether you're a musician, comedian, dancer, or other kind of performer, allowing your followers free access to your performances is a great way to stay top of mind and entertain your audience while they remain indoors. Doing this can also help to bring people together in a time when we all feel so far apart.
5. Live Streams & Online Resources for Art Stores and Artists
It's no secret that the boredom of isolation can start to get to some of us. All of a sudden, our overly hectic schedules have emptied and left many of us with more free time than we know what to do with. While this can feel like a negative effect, it can also be a great opportunity to pick up new skills and revisit the hobbies we rarely have time to work on. 
As an artist or business owner within the arts community, it's important to stay top of mind and keep your audience engaged with relevant content, classes or promotions. This may include live-streaming painting lessons, offering online art resources such as printable colouring pages, promoting your online product delivery services and more.
Regardless of the product or service your business supplies, there are several ways that you can remain relevant and effectively engage with your audience members virtually. While this unique situation can make you feel frustrated, hopeless and unable to successfully run your business, there are multiple creative ways to go about taking your company digital during the COVID-19 outbreak.