TikTok has rapidly grown into one of the most popular social media platforms in just a short period of time. Launched in 2017, it became the number one most downloaded app in 2020 and was ranked the third fastest growing brand of 2020 by Morning Consult.
It's estimated that the platform had about 732 million monthly active users in July 2021 and that the mobile app has been downloaded over two billion times. Compare that to Twitter, which has 397 million monthly active users, and Pinterest, which has 478 million.
With such a large audience, brands are starting to leverage the platform's popularity to reach customers in new ways. A TikTok marketing strategy has become more important than ever.
The platform itself allows users to film short videos, edit them with effects, filters, captions and music, and post them for their followers. Similar to Twitter and Instagram, content creators use hashtags to help users who don't follow them find their content.
Users tend to post short skits, lip-syncing clips, cringe videos, how-to's and share common experiences, most of which are comedic.
As with any social media platform, if you want to start marketing your brand on TikTok, it's important to first define your objectives. Common objectives include:
Increase social media engagement
Reach a younger audience
Increase your followers
Increase brand awareness
Here are some things to keep in mind for your TikTok monetization strategy.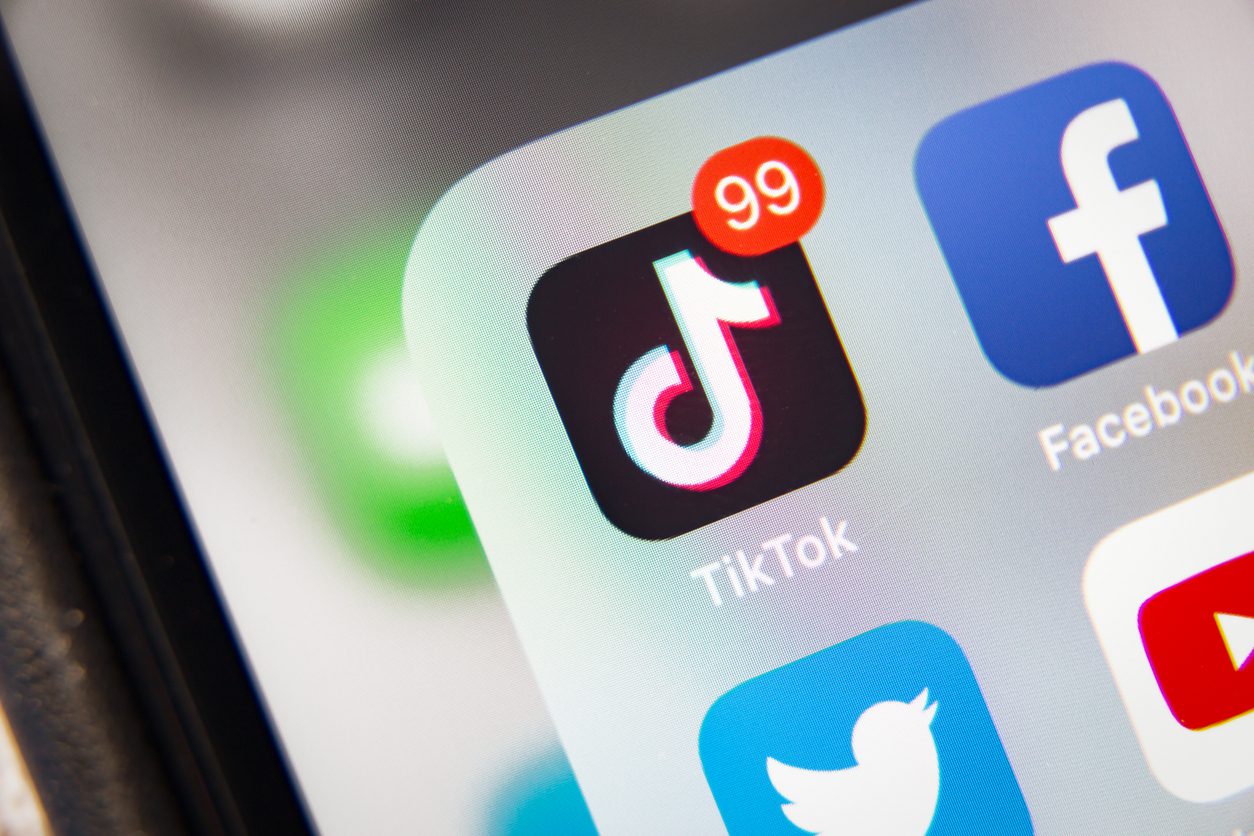 Ensure you optimize your TikTok campaigns well
No matter what platform you use, it's important to optimize your campaign to make sure you get consistently good results. By putting in the effort up front to properly optimize your marketing, you'll be able to easily launch campaigns that attract new leads, customers and website visitors.
Start off with a broad target audience
TikTok Ads Manager is a great place to start optimizing your TikTok Ads. It offers a wide range of targeting options based on gender, age, interests and location to home in on who you want to see your ads.
A good place to start is to create audiences that are similar to those you already know are high value to your brand. For example, if you know that a large portion of your in-store traffic is women aged 25-35, create an audience in this demographic and the TikTok Ads platform will find profiles with similar characters to these customers, increasing the chances of conversion.
If you don't know which groups you want to target, it's best to create a broad audience. TikTok Ads Manager can help by using AI to find the best target audience for your ads. It's also important to point out that there is value in testing different interests and behaviours related to your product or service before narrowing your target audience too much. It's possible there are untapped markets on TikTok you hadn't considered before.
Once you publish your first content, you can begin to analyze the results. Pay attention to which audience groups click on your ads. TikTok's algorithm will also analyze the results to help you get better results.
TikTok Marketing Strategy Tip: Don't over optimize your hashtags
Hashtags on TikTok work slightly differently from the ones you may be used to on other platforms. Unlike Facebook or Instagram, you only want to use a couple of hashtags on TikTok because they will appear on your video once you publish it. 
A video that's cluttered with too many hashtags will look strange and distract from the content. It will also likely cause less of an impact on the audience you're trying to reach. That's why it's best to use around four to five relevant hashtags per video. Try to use trending hashtags or ones that are generally popular in your niche.
TikTok Marketing Strategy Tip: Leverage hashtag challenges to increase engagement
Hashtag challenges are particularly popular on TikTok and should always be a key component of your TikTok brand strategy. The idea is that a user creates a video of themselves performing a specific action, like dancing to a certain song or showing off an athletic ability. Users post the video on TikTok with the relevant hashtags. Brands can leverage the popularity of these by sponsoring a hashtag challenge in what's known as a Branded Hashtag Challenge.
These help your business increase engagement and awareness with less effort than creating a fully fleshed out campaign with multiple creative assets. A well executed Branded Hashtag Challenge inspires users and gets them interested in your product. It also gets consumers to actively participate in your brand.
Leverage multiple creatives to keep users engaged and reduce ad fatigue
On all digital platforms, it's important to publish multiple creatives for a single campaign. Not only does this help reduce ad fatigue in your audience, it also helps you better understand what resonates with your target audience. By analyzing which ads get clicked on the most, you'll gain powerful insights into what works and what doesn't with your audience. Here are some tips to help you improve your ad creative:
Develop native content
It can be tempting to adapt campaigns from other channels to TikTok, this can sometimes work. But because of TikTok's unique format and style, it's best to develop content specifically for the platform. 
Create vertical content for the phone screen, use text overlay and take advantage of TikTok's free music library. You can also make your ad campaigns look organic through user-generated content.
Include people
User-generated TikTok videos almost always have people in them. To make more of an impact and fit the style of the platform, it's best that your ads include people as well. An easy way to do this is to collaborate with a content creator to improve brand engagement.
Boost your content
Use the Boosted TikToks option to boost your content or work with a creator who can generate content for your brand. This will help reach your target audience and increase the reach of your campaigns.
Use multiple creatives
It's best to use at least three different creatives and rotate them periodically to keep things fresh with your audience.
Work with TikTok influencers to increase brand sales
Endorsements have long been part of marketing strategies: Michael Jordan for Nike, George Clooney for Nespresso, and Taylor Swift for Diet Coke. Today with social media, users crave authenticity even more and tend to trust real people over brands. This is called influencer marketing.
That's why social media influencers across all platforms have become so popular. These people tend to have built large and engaged communities of followers around their unique and genuine personalities.
Any good TikTok growth strategy should factor in collaborations with influencers. Not only do they already have a built-in audience, they also know very well how the platform works and what will make an impact with their audience. They know the features and the types of content that will resonate with people.
The way it usually works is brands will pay influencers to use their product on screen or promote it in their videos. This could be a straightforward approach of talking about your product or it could be a more fun use of your product in a new and creative way. This will get your product in front of new eyes in an engaging way, also earning your customers' trust.
Encourage content creation by platform users
Community engagement is your most powerful tool when marketing on TikTok. Users want to be seen and heard, and they want to be a part of a cultural moment. The old-fashioned approach of one-way authoritative messaging from brands alone won't cut it any more. TikTokers want to be actively involved with content on the platform.
Brands can leverage influencer marketing on TikTok by incorporating user generated content into their marketing efforts. This shows your potential audience you're interested in their participation and invites even more users to join in, leveraging their audience as well.
Use TikTok Ad targeting
TikTok Ad Manager allows you to target your audience based on gender, location, age, interests, and "other unique variables".
Once you get more advanced, you can start creating "Custom Audiences" and "Lookalike Audiences" to reach more people who have similar characteristics to your existing customers. 
Try TikTok Ad Management tools
Peter Drucker, the father of modern business management thinking, famously once wrote, "What gets measured gets managed." Analytics is at the heart of digital advertising today. If you're not measuring the impact of your advertising, it's extremely difficult to optimize your campaigns to improve your results.
TikTok Pixel helps you track the impact of your TikTok ads. It provides you with a piece of code you can integrate into your website to help you track and better understand what action users are taking on your website. When a user gets to your site, it tracks their behaviour and conversions. 
It can help you measure the performance of your campaigns, optimize the delivery of the ads, and help you create "Custom Audiences" and "Lookalike Audiences" based on how users engaged and where they dropped off in your funnel.
Stay on top of TikTok analytics
It's not enough to simply set it and forget it when it comes to analytics. It's extremely important to monitor your data on a weekly, monthly, quarterly and yearly basis. This will help you understand immediate audience reactions to the content you post as well as trends over time. 
Here are the most common and useful data to keep an eye out for:
Number of video views
Followers
Profile views
Number of likes
Comments
Shares
Total playtime
Total views
Average watch time traffic source types
Audience territories
Put our TikTok marketing experts to work for you
If you're new to TikTok and are looking for guidance on your marketing strategy, our team of industry experts at Elite Digital can help! We'll put our extensive resources and industry knowledge to work analyzing your target audience, developing engaging content and analyzing the results to improve upon your successes. Reach out to us today to learn more!