Even as the economy slows, it's not the time to put the brakes on your digital marketing efforts. It's time to put your foot on the gas, as that's what other businesses are doing right now. Two in three companies intend to increase their digital marketing budget this year. 
You'll need to get to grips with the trends to stay ahead. That means investing your budget into the best marketing strategies.
Given this, we've compiled this breakdown of the top five Google ranking factors for 2022. Read on to learn more. 
1. High-Quality Long-Form Content
Long-form content is typically well-written, carefully constructed website content that's over 1,000 words. 
However, as far as digital marketing strategies go, that word count is starting to rise. Recent studies by top SEO websites put the optimum figure between 1,000 and 2,000 words. 
Still, it's not simply the numbers that matter for the sort of long-form marketing content that performs well on Google. There are other factors in that sort of lengthy article that will help it hit the top spot.
For a start, it has to be easily scannable. The content should be structured and organized with headings, sub-headings, bullet points, diagrams, and relevant images. 
The content must also be incredibly engaging. The way to do this isn't through a particular writing style but by putting together new and unique information.
For example, perhaps it means doing some new industry research and publishing that as a long-form article about trends in an industry. That's the type of content Google wants to see at the top of a search results page. 
Long-form content also needs to be dense. You have to have a specific topic and write concisely and informatively. Never veer off (which will negatively impact your bounce rate).
Specific formats work exceptionally well for long-form content. First, there is the traditional case study structure. That involves using one real-life example, working through that example, and extrapolating lessons and recommendations. 
Another suitable format is a how-to guide, a step-by-step account (with images and diagrams) to help solve a real-life problem. That works well with visitors who type in specific questions into Google. 
The great thing about long-form content is that when you do it well, you'll fully engage your reader, leading to higher conversions to your website.
You can support that process by offering a related lead magnet at the end of the article to get the most interested readers onto your email list. 
2. Voice Search
If your household knows the meaning of "hey Siri" or "Alexa," you'll understand how much voice search is becoming a feature of our everyday lives.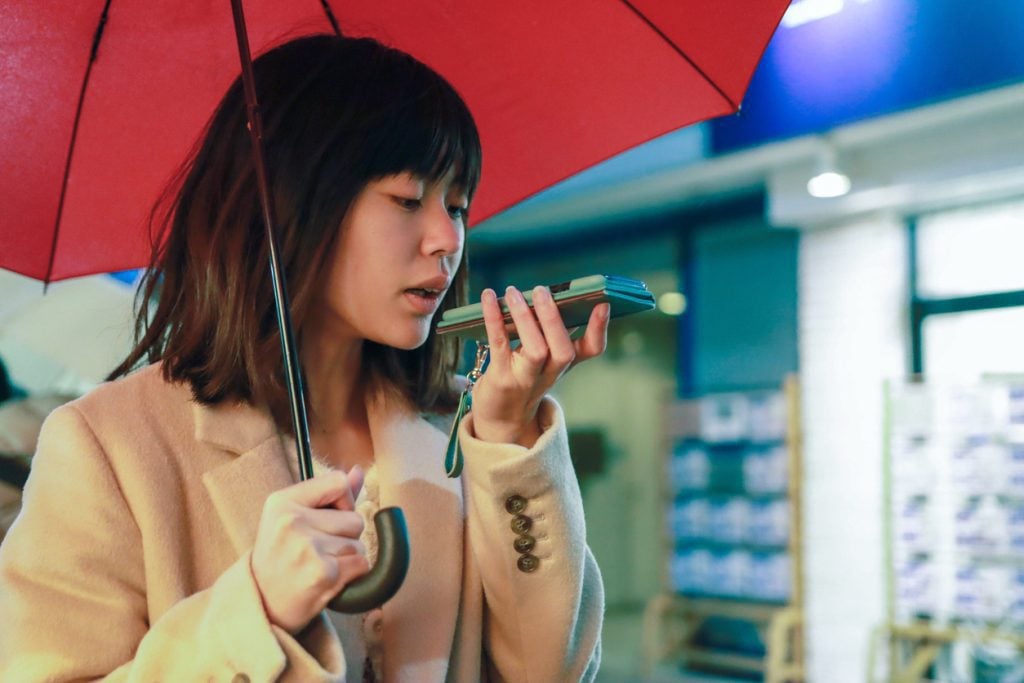 As more homes adopt voice technology, you'll need to ensure your website is ahead of the game and that you aren't playing catch up. Here's how you do that. 
First, research the phrases that people are using via voice.
It's different from written language as when people use voice technology, they tend to talk in longer, more natural sentences, whereas when typing on a search engine, people often opt for a string of keywords instead. 
For example, instead of someone typing "nearest car garage," a voice searcher will say, "Hey Siri, where is the nearest car garage to me?"
It is important to start with keyword research and note down the long-tail keywords and phrases people are entering. You should focus on those for your voice-optimized content, and you'll want to structure your post with those specifically-phrased questions in the title. 
You'll also want to optimize your website for snippets. Snippets are automatic answers you sometimes see on a search result page. They will often give you enough information so you don't need to continue your search.
To get featured as a snippet, you'll need a clear, relevant, and comprehensive answer to those questions by condensing them into a single paragraph. 
Voice search is worth prioritizing if you rely on local SEO. If this is the situation for you, focus on articles that optimize for long-tail keywords with a local reference, like the garage example above. 
3. Search Intent
Search intent refers to the true motivation behind a customer's search query. Take these two examples:
Searcher one asks: how many calories are in a protein shake?
Searcher two asks: what's the best protein shake for weight loss?
When comparing the two asks, we can see that searcher one is after information. They're researching and using Google to gather information. They might be interested in other things, such as diet programs or buying weight-loss protein shakes, but that's not their immediate intent.
Searcher two has classic buyer intent. That specific visitor knows what they want to buy and are researching solutions before purchasing.
Understanding searcher intent is excellent for your marketing strategy. You can give the information the customer is after instead of giving them something you think they want.
A customer seeking the number of calories in a protein shake is likely to get irritated if they land on an article that doesn't answer their question. That irritation will grow if the webpage tries to sell them a protein shake instead.
Knowing and understanding search intent will also help you with your website sales funnel to help convert more of your target audience into buyers.
These search examples are potential customers, but both need different content and a different funnel. In the case of the first example, that person needs information to help answer their question.
After that, you can guide them to another article about the benefits of your weight loss protein shake, which will move them closer to a purchase.
With the second searcher, you can offer an article comparing your shake to others on the market and explaining why yours is superior to the other products.  
4. AI and Automation
Google has always been at the forefront of AI and is the feature that has helped its search engine become the success of today. There are no plans to change that.
Google is working on improving the AI that sits at the heart of the Google algorithm. That algorithm offers intelligence and human-style reasoning to search queries to help improve the search results it puts before its users. 
There's a name for what Google currently offers for AI: Rank Brain. Rank Brain is central to Google's algorithm, and the priority here is machine learning, a significant feature of any AI technology.
Rank Brain exists to learn about what humans type into Google and, more importantly, why. If Rank Brain can gradually learn the motivation behind a search (the search intent), it can deliver better user results. 
From an SEO angle, the best way to handle Google's Rank Brain is to prioritize your visitor when optimizing your content.
Refer back to point 3 in this article and what search intent people have when typing in a keyword. Your job is to focus on delivering something that meets – and exceeds – those user needs.
And you'll need to consider this from all angles. It's not enough to have informative content; you'll also need to ensure that content is fresh and up to date.
If it's topical, you'll want to update that page to reference new information that users will expect to see.
For example, suppose you have a five-year-old article on hand washing techniques. In that case, you should update it to reference the pandemic.
5. Video and Audio Digital Marketing
Finally, don't forget about the meteoric rise of video and podcasts as favoured types of content.
We now live in the days of YouTubers, TikToker influencers, and famous podcast presenters. Many people prefer the medium of video and audio to consume information as part of their busy lives.
That doesn't mean you need to ditch your written articles altogether. However, you must consider incorporating quality video and audio content into your marketing plans.
Ultimately, video and audio shouldn't be on your website because you think you need them for search engine marketing. It has to serve a purpose.
Think about what content you put in front of your audience at the moment and whether they'd benefit from seeing an accompanying video or audio file. Sometimes the options are obvious.
If you have a company in the food industry, you can present recipe videos. But sometimes, you'll need to spend more time thinking about workable ideas.
If you are a B2B company, perhaps you can run some interviews with prominent business leaders in your industry and present these as a podcast. 
Don't forget that audio and video content needs as much keyword optimization as any other content on your website. So all the different SEO rules apply here. Go through the same SEO process as you typically do with your blog posts.
Utilize these Google ranking factors to your advantage
There are a lot of factors which impact your Google ranking and that get your website working harmoniously with the technology and trends of 2022. You'll need to make a start today.
Our digital marketing specialists can help you hit your goals faster and help you get ahead of the competition.
After all, that could be a critical business advantage. So why not take the first small step today by arranging a call with our expert digital marketers?